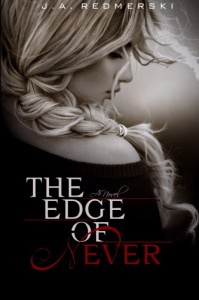 Road trip with hot guy and pretty girl. Sounds like a recipe for a great story, right? Between the synopsis and the reviews I'd read about this book, I had some optimistic expectations. I wasn't disappointed.
Camryn starts out as a sad, depressed character whose friends are insisting she break out of her comfort zone. Her boyfriend was killed in a car accident, and this has left her pretty much emotionally destitute, moving through her life as a sort of zombie. She makes a bold decision and takes a big chance by getting on a bus and just leaving her life behind. She doesn't have a physical destination, but she does have an emotional one - she is determined to get past the heartache and devastation which has held her prisoner.
On the bus, she meets Andrew. Andrew is a guy with his own issues (what is a hunk like him doing on a bus?) He is persistent, she is stubborn. The story predictably follows the thawing of Camryn's refusal to give him the time of day, to their friendship, to their romance, to tragedy, to a happy ending. And the best part is the road trip.
I liked Andrew a lot. He was a nice contrast to Camryn's friends at home - people who tried to fix deep questions with shallow answers. Natalie is the stock best friend trying to pull Camryn out of her funk. Damon, Camryn's friend and Natalie's boyfriend, is a jerk. And Natalie is blind. Although I found their behaviour to be realistic, I didn't like it. They may have added some dimension to Camryn, but in the end they really weren't needed beyond the initial setup of the plot.
One of the reasons I liked Andrew was the way he insisted that Camryn be smart. Honestly, the idea that a 20-year old pretty girl gets on a bus smacks of out-and-out stupidity. Fortunately for Camryn, Andrew addressed that situation with an appropriately protective attitude. He was totally a guy without being obnoxious. He continually drew Camryn out, faithful to their friendship without losing the fact that he was attracted to her. He was also the typical heartthrob which admittedly is unrealistic but who cares? He's good-looking and not afraid of a fight. He's funny and caring. He's irresistible. What's not to love?
The road trip, while immensely entertaining, was a bit unrealistic. Apparently Andrew had unlimited funds with which to drive around the country and just have fun. This was explained later - but the idea that they were just able to drop their lives seemed to be a bit of a stretch. Enviable, though. Seriously, who wouldn't love just leaving their life for awhile?
The love story - which we all knew would end well - really did develop nicely. This wasn't insta-love, but rather a gradual exploration of the issues that plagued both characters. I think that's what made the story good; getting to the bottom of all the problems alongside the relationship made for a great romance. The banter was a lot of fun and the ending came out of nowhere. It carried an emotional punch that gave the book a nice bang with which to go out.
This is decidedly New Adult. This isn't a couple of teenagers mooning over each other. These are young adults behaving like adults, so be warned.
The audio was narrated by Lauren Fortgang. She gave great voices to the characters. Her expression and emotion was great, although she does have a bit of a whiny tone that might be off-putting to some.
I really did like this book a lot. It's one of the better NA contemporaries out there, with characters who have depth. I'm not raving about it, but I am recommending it. Romance lovers will be braiding their long hair and longing for an Andrew Parrish of their own.