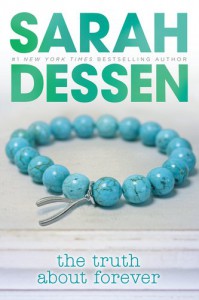 Well, first let me say this: I just finished [b:The Sky Is Everywhere|6604794|The Sky Is Everywhere|Jandy Nelson|http://d.gr-assets.com/books/1348272658s/6604794.jpg|6798696]. I decided to try Sarah Dessen because of all the rave reviews.
I feel as if I've just binged on junk food. Macy! Wes! Could you BE more predictable? This book was so formulaic that I thought I was reading Danielle Steele or Nicholas Sparks. I'm a little upset with myself that I wasted this much time on such a stamped-out-of-a-mold story.
The writing was ok, but not great. The story was marginal. The characters, while well drawn, were expected -- and while there were a few moments of dialogue that made me laugh, they were far too little to comprise a well-written story.
I am so disappointed.
If you're into this kind of fluff, then you will enjoy it immensely. But there are a slew of other writers out there who do it better. Just sayin.